EIZO Corporation, Japan (TSE: 6737) is the first-ever company to obtain TÜV Rheinland's Color Accuracy certification with four products in its ColorEdge series of graphics monitors. EIZO announced this news on October 15, 2015.
TÜV Rheinland's Color Accuracy is the first quality and performance criterion to measure the color accuracy of display devices for multiple graphics fields such as photography, post-production, design, and printing. This new criterion will help professional creatives in discerning which monitors meet an established set of requirements for image display.
The main requirements of TÜV Rheinland's Color Accuracy Certification are the following:
- Accurate color display including verification of the sRGB and Adobe RGB preset modes
- Color stability when the monitor is in use
- Brightness and color uniformity
- Minimal color shift when the screen is viewed from an angle

In addition, if a monitor meets the requirements for stable color shortly after being powered on then it is also designated with the grade "Quick Stability."

The four EIZO monitors that received TÜV Rheinland's Color Accuracy certification are all from EIZO's ColorEdge series monitors for professionals in the graphics, video-editing and photography fields:

All four models carry the "Quick Stability" grade.

Kazuhide Shimura, managing officer and general manager of product & business development at EIZO said, "TÜV Rheinland's Color Accuracy represents a significant leap forward by establishing a clear criterion for color accuracy across the graphics market when evaluating a monitor. As the first company to obtain certification, we are pleased to offer graphics professionals a choice of monitors they can rely on for their color-critical work."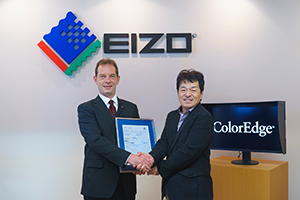 Mr. Holger Kunz, President & CEO Executive Vice President of TÜV Rheinland Asia-Pacific mentioned: "We are pleased to issue our first certification of Color Accuracy to the industry leading company, EIZO Corporation. Monitors that have obtained Color Accuracy certification fulfill comprehensive requirements expected in the high-end graphics market. Therefore, we are confident this certification will deliver additional value to professionals. We would like to express our special gratitude to EIZO team for supporting us by providing monitors and information for comparative testing in order to set the Color Accuracy criterion."
TÜV Rheinland Group
A leading provider of technical services worldwide was founded in 1872 and headquartered in Cologne, the Group employs 19.320 people in 500 locations in 69 countries (including two offices in Dubai). It generates annual revenues of € 1.7 billion. The Group's mission and guiding principle is to achieve sustained development of safety and quality in order to meet the challenges arising from the interaction between man, technology and the environment.

Have you purchased an EIZO ColorEdge monitor recently? You may qualify for a discount!