Practical Application
The Re/Vue Mini 2 is a next generation video and audio encoding and recording solution designed specifically to record data in ATC environments for Incident Investigation, Training and Simulation, and Research and Development. EIZO's compression algorithm is designed specifically for applications with complex images that vary little from frame to frame, such as are standard in ATC.
100% Accurate Playback
Re/Vue Mini 2 interfaces directly with the video signal being sent to the monitor, providing 100% accurate reproduction of encoded and recorded data.
Platform and Graphics Card Independent
The Re/Vue Mini 2 is entirely independent from the operating system and software which drive the monitor so it is unaffected by any changes that may occur to the system, providing investment protection. In addition, recorded data can easily be viewed on any Linux- or Windows- based system.
Centralized Control
All Re/Vue products can be managed through an installed application called Lights Out Configuration 2 (LOC2) that provides access to configuration and control features. Alternatively, Re/Vue Mini Series products can also be managed through a web interface. All calls made through the web interface are available as a fully documented SNMP interface to support integration into other recording solutions. Using either the LOC2 application or the web client the Re/Vue network can be managed locally through the LAN, enabling a single access point for the entire video recording and streaming network.
Lossless Recording and Compression
The Re/Vue Series' proprietary compression technology, developed in-house at EIZO, has been further enhanced since the first generation Re/Vue Mini. The Re/Vue Mini 2 now boasts the most advanced compression algorithms to date, ensuring even higher compression levels of up to 30,000:1 while continuing to maintain lossless recording.
Mission Critical Redundancy
The Re/Vue Mini 2 is the result of combining further enhanced EIZO technology and new redundancy fail-safes with the previous generation's advanced feature set. Additional dual Ethernet outputs and two power supplies ensure continued operation in the event of power or network failure. Furthermore, an internal hard drive ensures that in the event of network failure, data is maintained locally until the network is restored. The internal storage provides an online data range of more than 90 days for secondary storage or standalone deployment options.

Playback Utility
The Re/Vue playback application supports synchronous playback of files recorded from any Re/Vue device. Features include variable speed playback, frame by frame advance, loop mode, ultra-responsive zoom, and pan options. For integration purposes a fully documented API is available to enable playback of Re/Vue recorded files using other recording applications.
Infield Software Update Feature
All products in the Re/Vue Mini Series are capable of infield software updates through the LOC2 application. This minimizes downtime by ensuring that the latest features and enhancements are applied quickly and easily over the local network without the need to remove the product.
Resources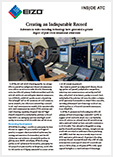 Creating an Indisputable Record (PDF)
EIZO analyzes how advances in video encoding technology have generated a greater degree of post event situational awareness in ATC in this in-depth article